* Just added – pictures from the premiere: View Photo Gallery
Thank You Okanagan!
Our premiere run in the Kelowna Community Theatre is now concluded.  The response to the show in the community was overwhelming and we thank all of you who joined us for this innaugural sailing.  Stay tuned, much more to come!
Pat and Randall
Music Samples
HOW CAN THIS BE LOVE
SAVE THEMSELVES (Reprise)
About the Show
An epic tale of love, morality, and obsession.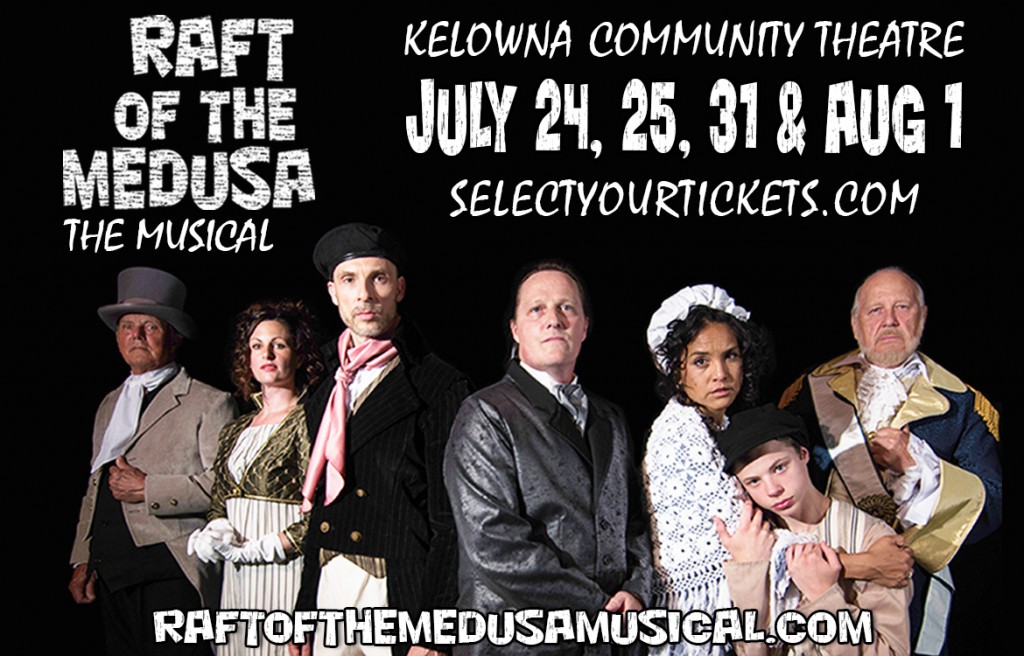 Raft of the Medusa is a new rock musical based on a true account of one of the worst naval disasters of the nineteenth century.  Through the incompetence of her captain, the magnificent French sailing ship Medusa ran aground off the west coast of Africa.  Of the nearly 400 aboard 150 were set adrift on a makeshift raft.  Condemned, as it would turn out, to unthinkable depravity and suffering.  Two weeks later only 15 were left alive.
Aspiring and eccentric French painter, Theodore Gericault, was so moved by the plight that befell the Medusa's victims that he embarked on his masterpiece: Le Radeau de la Meduse – The Raft of the Medusa.   Before long Gericault's fascination turned to obsession spiralling the artist into darkness.  It is through this tortured artist's eyes that we discover this harrowing tale.  His pain paralleling that of the castaways on the raft that he was compelled to know.
Read Full Synopsis | Sample Songs
Four years in the making, this fresh new musical is written and produced by Okanagan based recording artists and thespians Pat Brown and Randall Robinson – best known from the popular rock band Ten2Nine, along with their musical theatre performances with Soundstage Productions.
The show is currently in pre-production for its premier Friday July 24 with additional shows on July 25, 31 and Aug. 1, 2015 at the Kelowna Community Theatre.
For more info please email us at: info@raftofthemedusamusical.com